Uniform items are only available from the Cerdon College Uniform Shop.
Please check the Announcements page for changes to opening hours; opening hours vary according to demand and seasonal variances.
General opening hours
Monday and Wednesday (Term 1 & 4) 8:00am - 2:00pm
Monday only (Term 2 & 3) (8:00am - 2:00pm
BY APPOINTMENT ONLY
Contact Information
T 8724 7329
F 8724 7399
E cerdonuniform@parra.catholic.edu.au
Payment Options
Eftpos Credit Card (Visa and Mastercard only)
Please note there are limited items available to purchase via QKR app.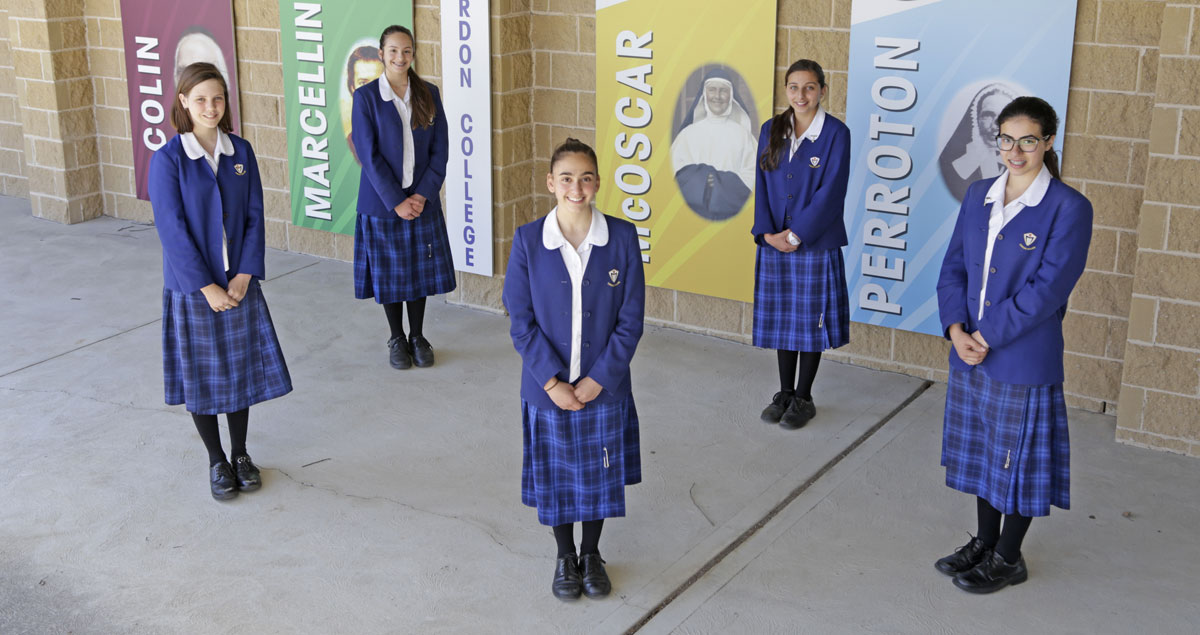 ---
Uniform Requirements
The uniform and price list can be obtained from our Forms page.
YEAR 7-10
Dress
Years 7-9
Junior College Summer Uniform (below the knee when standing).

Year 10
Senior College Summer Uniform (below the knee when standing).
Terms 1 and 4
Blazer
Royal blue wool with College crest.
Compulsory during Terms 2 and 3
Kilt
Blue checked kilt, calf length.
Terms 2 and 3
Pullover
Royal blue v neck style with College crest.


Blouse
Sky blue blouse with College crest.


Socks
Sky blue ankle style (cotton).
Terms 1 and 4
Tights
Black opaque tights must be worn with kilt.
Terms 3 and 4
Shoes
Traditional black leather lace-up shoes with non-slip sole.


Bags
Compulsory school bag for all students. Bags for PDHPE and other equipment must be the school sports bag.


Hat
School hat (optional) available from school


Scarf
Regulation College scarf
Optional Terms 2 and 3
YEAR 11-12
Dress
Senior College
Summer Uniform (below the knee when standing)
Terms 1 and 4
Blazer
Royal blue wool with College crest.
Compulsory during Terms 2 and 3
Kilt
Checked kilt, calf length.
Terms 2 and 3
Pullover
Royal blue v neck style with College crest.


Blouse
Sky blue with College crest.


Socks
Sky blue ankle style (cotton).
Terms 1 and 4
Tights
Black opaque tights must be worn with kilt.
Terms 3 and 4
Shoes
Traditional black leather lace-up shoes with non-slip sole.


Bags
Compulsory school bag for all students. Bags for PDHPE and other equipment must be the school sports bag.


Hat
School hat (optional) available from school


Scarf
Regulation College scarf
Optional Terms 2 and 3
PDHPE UNIFORM
| | |
| --- | --- |
| Shorts | Navy blue with College name. |
| Top | Navy blue polo shirt with School crest. |
| Joggers | Predominantly white – no gym boots – no basketball boots. |
| Sun Hat | Navy blue with School crest. |
| Socks | White (sky/navy stripes at top). |
| Tracksuit | School tracksuit. Compulsory for Years 7-10. |
| Swimwear | Swim cap in house colour. Compulsory School Swimming Costume. |
The Uniform must comply with Acceptable Uniform Procedure (Refer to the Parent Handbook)