Selecting Cerdon College, Merrylands, will give your daughter the best opportunity to develop academically, spiritually and socially, and in partnership with Catholic education.
It involves a commitment to work with the school and support the philosophy, values and aims of Catholic education.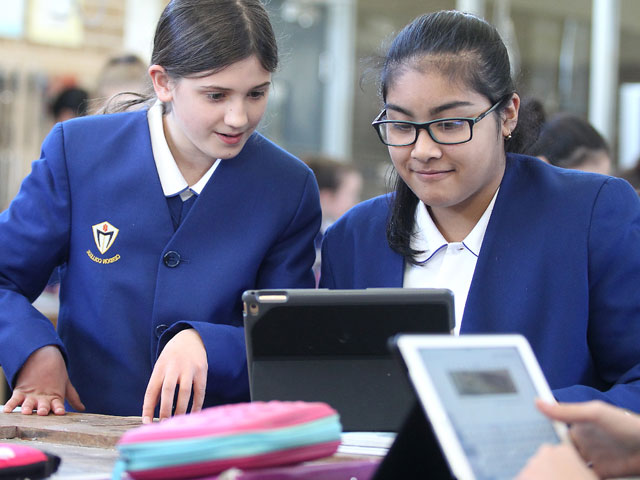 Enrolment Procedure
Step 1:
Review the
enrolment instructions
Before completing the Enrolment Application, read the Enrolment Instructions and Checklist for relevant supporting documents in the Enrolment Application Form.

Enrolment packages containing the Enrolment Instructions and Application Forms are also available from the school office.


Step 2:
Enrolment Application
The enrolment application consists of several parts, but completing all parts will allow the College to best identify your child's needs and requirements. Please complete and submit:
The completed Enrolment Application, together with all requested supporting documentation (must be originals), and a $50 non-refundable Application Fee must be submitted, in person, to our school office. Please be aware that we are unable to accept or process incomplete applications and note that submitting an application does not guarantee automatic placement.


Step 3:
Enrolment Interview
All students seeking enrolment at Cerdon College are required to attend an interview. Once the Enrolment Application has been submitted, our Enrolment Officer will contact you to schedule an interview. The enrolling student and at least one parent/carer are required to attend the interview.


Step 4:
Enrolment Acceptance
We will advise the outcome of your application in writing shortly after the interview.

If you receive a Letter of Offer, you are required to return the Enrolment Acceptance Form and:

if you are enrolling into Year 7, there is a $300 non-refundable enrolment fee (which covers the cost of the camp) OR
if you are enrolling into years 8-12, there is a $100 non-refundable enrolment fee that must be submitted by the requested date to secure your position.

This deposit contributes towards your first term school-based fees.


Overseas students
on visa subclass 500
Cerdon College is registered as CRICOS school, CRICOS Provider Number 03340M, to enrol senior secondary overseas students on visa subclass 500.

Currently the school is registered to enrol four students at any one time.

Enquiries regarding application for enrolment by students on visa subclass 500 should be forwarded to the principal.

Please note that Catholic Education Diocese of Parramatta does not actively recruit students from overseas and does not enter into any arrangements with education agents or pay any commissions in relation to any prospective student enrolment.


---