Bring Your Own Device
Student device requirements and FAQs.
BYOD stands for Bring Your Own Device in which students bring their own personal technology device into the classroom.
The main advantage of BYOD is that students are equipped with the latest technology that has the capability, performance and reliability required for learning. The BYOD program not only provides students with access to expanded global resources and content, but also gives students the opportunity to take ownership of their learning and facilitate creative problem solving.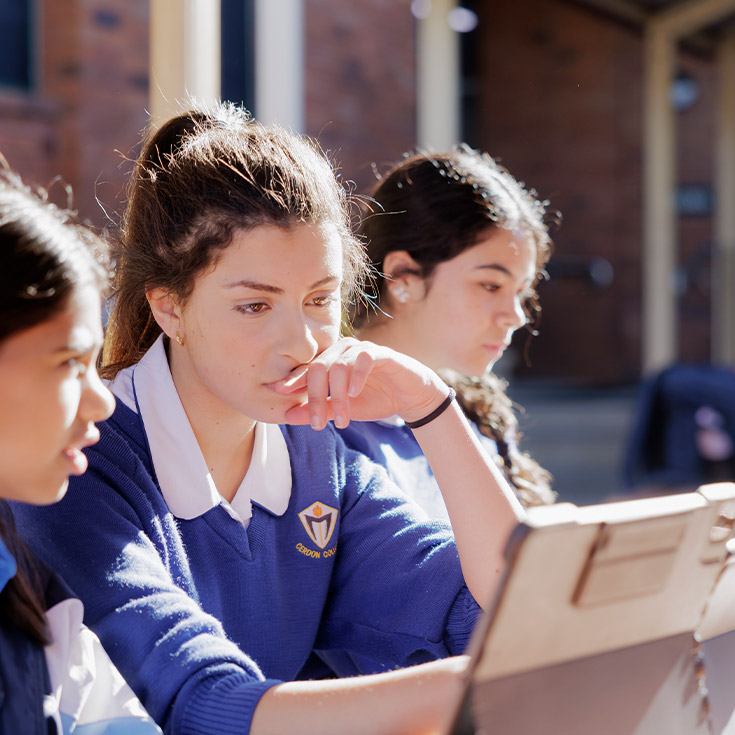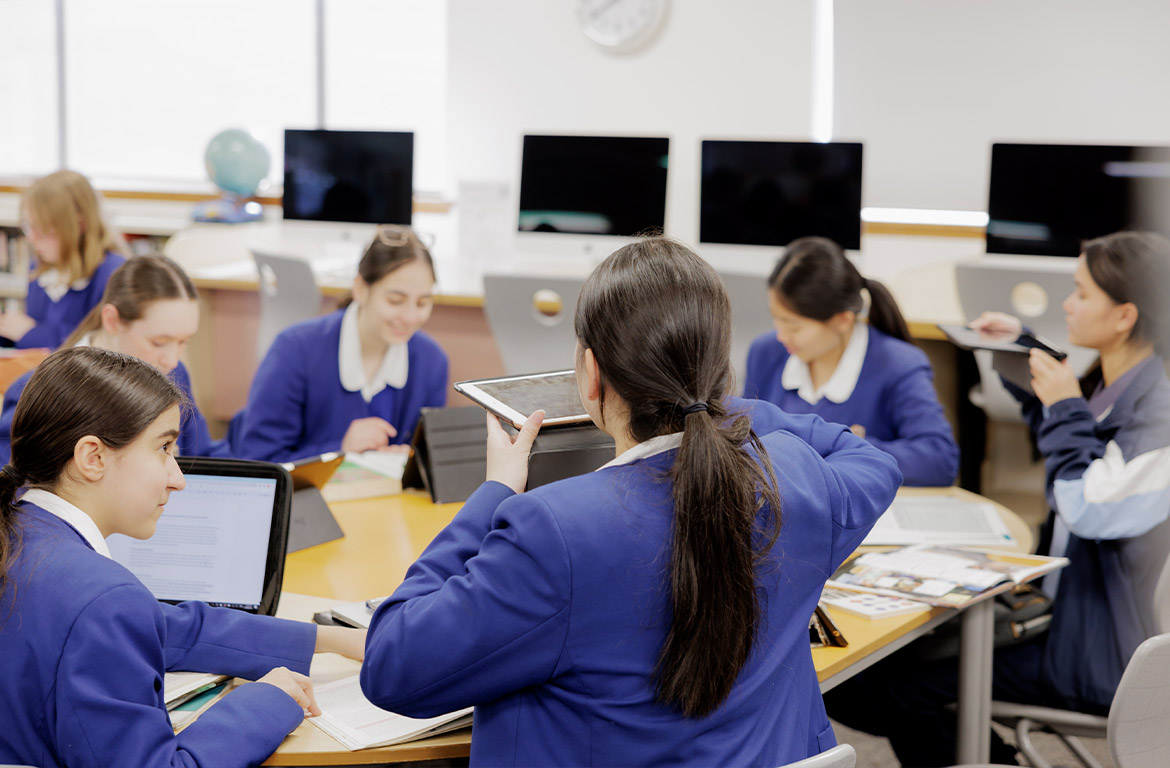 Information for Parents
---
Read our frequently asked questions below to learn more about the BYOD program and what your daughter requires for her learning device.
What device does my daughter have to bring?
The new Apple iPad is the designated device to be used for learning at the school. Purchase of the Apple Pencil is also strongly recommended. The iPad has been chosen based on its proven reliability, compatibility and excellent performance of its battery life. This is important as students will not be able to charge their device during the school day. You may choose to purchase an iPad Pro, if you wish. We recommend purchasing either the new iPad or iPad Pro with the largest possible storage you can afford - 128GB would be considered the minimum.
Please note: the Catholic Schools Parramatta Diocese (CSPD) network does not support Android devices.
What if my daughter already owns an iPad?
If you already own an iPad device, it is important to consider whether the iPad you currently own is compatible with the most recent version of the iOS (operating system), and whether your device will be compatible with future updates. If you are unsure, please check with Apple.
The latest iOS contains Swift Playgrounds which is used to teach coding. For these reasons we recommend purchasing either a new Apple iPad or the iPad Pro which are able to run iOS11 and the NAP Browser - the app required to sit the NAPLAN assessment online.
The iPad 2, 3 and 4 will not be compatible with iOS11; the iPad Mini will not be able to run and support the NAP Browser.
Why is an iPad the chosen device? Why not a laptop computer?
iPads are mobile devices, light enough to carry from home to school, and easily stored in a school bag without adding too much weight. We needed a device that was:
small enough to sit on a desk
fast enough to stream video, create movies and other digital content
equipped with enough storage for managing apps and app content
Laptops do not provide the same level of interaction and collaboration between students, or with students and their teacher. In contrast, the iPad allows students to 'lean in' and share the learning without a sea of screens between users. As we are committed to writing, it was important to choose a device that did not bind students to a keyboard, while enabling them to capture and produce visual and digital content to demonstrate their learning.
We use Google Apps for Education and as such, each student has unlimited storage of documents, slides and spreadsheets, video (YouTube), email (Gmail), blogs (Blogger), websites (Sites) and photos. Storage was not, therefore, a driver of the decision.
An iPad can't do everything. Will I have to purchase a second device?
No. We will continue to maintain a combination of laptop and desktop devices here at school. Student surveys have shown that most students had one or more other devices at home that they could use if they required a keyboard. We also have a lending program for laptops should a student need to borrow one.
The NSW Department of Education research has shown that the choice of device has no impact on the performance of a student completing an online assessment, such as NAPLAN.
How will teachers be using the iPad in the classroom?
At Cerdon College, teachers use a blended approach to learning. We combine face-to-face teaching with a sensible approach to using technology to supplement classroom learning. Examples of the teaching methods we have been using include Project-Based Learning and Flipped Learning. These approaches encourage more dynamic, interactive learning in the classroom space.
The aim is to make technology use in the classroom as ingrained as possible, as digital content helps with differentiating the curriculum and personalising learning for students. While technology has an important role in the classroom, our real 1:1 program is the relationship teachers develop with each student, and which has the most impact on student achievement.
What happens if my daughter's iPad is damaged at school?
As it is a personal device, all repairs and damages will be the responsibility of the students and their families. We highly recommend that you purchase an AppleCare warranty on these devices, as well as a protective case or cover.
Will my daughter be able to access on-site tech support for her device?
The school Technical Support Officers will be available to assist students in connecting to the school wi-fi network. They can also help the students determine whether their device needs to be repaired through the warranty. If a device that has no warranty needs repair, they can supply a list of repairers who will be able to fix it, however no recommendations can be made.
Our Technical Support Officers are not permitted to perform any repairs on a BYOD iPad.
More about learning at Cerdon College