Enrichment at Cerdon
24 Jun 2020

The Cerdon College Knowledge Challenge
One Giant Leap Australia Space Camp USA Tour 2020 Scholarship
Last term, senior students were offered the opportunity to apply for a scholarship to assist a student to attend the One Giant Leap Space Camp USA tour later this year. There were two scholarships on offer Australia wide. The application process was gruelling, and the competition was tough. Applicants were asked to compile responses to a number of questions which were scrutinised by One Giant Leap Foundation Student Ambassadors.
Selected students participated in a virtual interview with Jackie and Bob Carpenter from One Giant Leap Australia Foundation on Skype. For more than 30 minutes, contenders were questioned and grilled – answering many different questions and asked about the finer points of their applications. The top 4 were selected and then had a phone interview with Adam Bradley, the latest expert to join One Giant Leap Australia Foundation as an advisor.
Georgia Diab from Year 10 wrote in her application, "I seek to one day look around and be conscious of what exists with us in the universe and be able to look upon future generations and know I contributed to their knowledge of space."
Her insightfulness and willingness to make a difference impressed the judges and for her efforts she was successful in gaining a $3500 scholarships to assist her in achieving lifelong dreams to go with One Giant Leap Australia on their annual Space Camp USA Tour. Although not initially confident, Georgia has learned that it is important to take every opportunity because you never know what it will bring you...certainly a very valuable lesson to learn!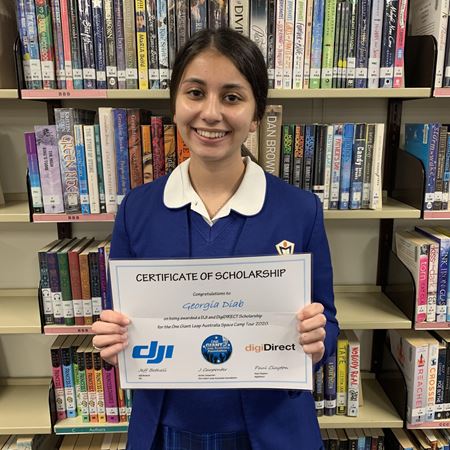 Congratulations Georgia
National Youth Science Forum 2021
The NYSF Year 12 Program is a 10-day residential program designed to give students a broader understanding of the diverse study and career options available in Science, Technology, Engineering and Mathematics (STEM) and to encourage continued studies in these fields.
At the NYSF Year 12 Program run in January each year, participants will visit Science and Technology related laboratories and facilities conducting the latest research, go on site tours and take part in workshops, participate in social events and meet like-minded participants.
To participate in this program, Year 11 students need to first go through a very rigorous process. They need to submit their application to a Rotary Club and undergo an interview with a panel to gain the club's sponsorship.
Malika Kapoor from Year 11 was very impressive in both her application and interview. A spokesperson from Rotary commented that she is a credit to all the staff members of her school and her family and that of Rotary Wetherill Park
Malika will now be involved in further interviews involving members from the NYSF organisation, members of industry and past NYSF ambassadors. If successful Malika will receive sponsorship for the $3250 program.
Australian Brain Bee Challenge
For the first time this year, a few Year 10 students trained for the Australian Brain Bee Challenge. The girls only had a few weeks to prepare and the content (on Neuroscience) was very comprehensive. The training culminated in an online test. Garima Mainali received a score of 80% placing her in the top 10% nationally.
Write4Fun Competition
Cerdon College has been recognised for Outstanding Student Writing in the Write4Fun competition. This competition received more than 7000 entries across Australia and less than 5% of schools showed this level of achievement.
Cerdon College Knowledge Challenge (CCKC)
The Knowledge Challenge is a Quiz like competition between colour houses and after an absence of a few years it generated quite a lot of excitement when it returned this term with the Year 11 CCKC. The questions for the quiz are based on work covered in class well as sport, entertainment and current affairs. This event not only challenges the girls thinking but it also promotes house spirit and is lots of fun!
06 Nov 2023

This event will allow high school students and graduates the opportunity to have conversations and coaching sessions with experts from their desired field.

08 Sep 2023

Apply for the 2024 Teacher Scholarship Program today. Applications close Monday, 9 October 2023!